Explore Special Offers & White Papers from AFS
TOP HEADLINES
EU Soft-Wheat Exports Rise 7.8% Y/y; Corn Imports Increase 66%
The European Union's soft-wheat exports for the season that began July 1 reached 22.1m tons by March 19, compared with 20.5m tons a year earlier, the European Commission said on its website.
Leading destinations include Morocco (3.52m tons), Algeria (3.07m tons) and Nigeria (1.92m tons)
EU barley exports were 4.33m tons, versus 6.18m tons
Corn imports were 19.7m tons, versus 11.9m tons
NOTE: Commission says some export figures for Germany may be inaccurate due to its recent shift to a new declaration system and Italy import data is only available through mid-January
FUTURES & WEATHER
Wheat prices overnight are down 9 1/2 in SRW, down 7 3/4 in HRW, down 6 in HRS; Corn is down 1 1/2; Soybeans down 4 3/4; Soymeal down $0.36; Soyoil down 0.13.
For the week so far wheat prices are down 35 3/4 in SRW, down 22 1/2 in HRW, down 20 in HRS; Corn is down 5 3/4; Soybeans down 13 1/2; Soymeal down $0.83; Soyoil down 1.27.
For the month to date wheat prices are down 31 3/4 in SRW, down 1/4 in HRW, down 27 in HRS; Corn is down 1 3/4; Soybeans down 16 3/4; Soymeal down $10.10; Soyoil down 3.93.
Year-To-Date nearby futures are down 14.8% in SRW, down 8.4% in HRW, down 10.4% in HRS; Corn is down 7.4%; Soybeans down 3.7%; Soymeal down 4.3%; Soyoil down 11.9%.
Chinese Ag futures (MAY 23) Soybeans unchanged; Soymeal down 16; Soyoil down 162; Palm oil down 196; Corn down 37 — Malaysian palm oil prices overnight were down 117 ringgit (-3.09%) at 3667.
There were changes in registrations (-11 Soybeans). Registration total: 2,537 SRW Wheat contracts; 23 Oats; 73 Corn; 188 Soybeans; 613 Soyoil; 1 Soymeal; 88 HRW Wheat.
Preliminary changes in futures Open Interest as of March 21 were: SRW Wheat up 4,604 contracts, HRW Wheat up 719, Corn up 4,593, Soybeans up 3,386, Soymeal down 501, Soyoil up 3,065.
Brazil Grains & Oilseeds Forecast: Scattered showers are continuing over the interior of Brazil this week but will be spottier across southern and eastern areas. That will help increase the remaining safrinha corn planting. Soil moisture is good for the corn in the ground. Showers will decrease later this week over central areas as the wet season is showing signs of slowing down early — not a good outlook if that continues over the next few weeks as well.
Argentina Grains & Oilseeds Forecast: A front continues to bring scattered showers, sometimes heavy, to central Argentina early this week and then to northern areas later in the week. Rain is likely too late for much of the damaged corn and soybean crops. However, stabilization will likely occur if the showers are as heavy as forecast. Temperatures will remain above normal until a cold front moves through next week.
Northern Plains Forecast: Temperatures remain below normal for the next couple of weeks in the Northern Plains and Canadian Prairies, requiring higher inputs than normal for livestock and limiting snow melt. A system moves through Tuesday with scattered precipitation and some areas of moderate snow in the northeast, but the rest of the week is likely dry as systems pass by to the south.
Central/Southern Plains Forecast: Temperatures are higher for the next couple of days but will be squashed later this week as a cold front is slowly pushed southward through the region by a few storm systems. These systems will produce scattered precipitation across the region with the strongest storm in the series occurring Thursday into Friday, which has the best chance at bringing precipitation to the southwestern drought areas. There may be another over the weekend that could do so as well, but chances are low for meaningful precipitation outside of Kansas and Colorado's winter wheat areas.
Midwest Forecast: A string of systems will push a cold front through the Midwest this week, bringing widespread precipitation through the region yet again. Another may come through this weekend into early next week. A wet end to March is likely to lead to some delays for early fieldwork heading into April. Temperatures will be waffling to end the month as well.
Black Sea Forecast: Dry and warm conditions will continue in the Black Sea region for most of this week before a front brings more showers through the region this weekend and into next week. Soil moisture is mostly good in the region and the warmth will help winter wheat to develop this week. The wheat crop is in good shape overall where not affected by war.
The player sheet for 3/21 had funds: net sellers of 5,000 contracts of SRW wheat, sellers of 2,500 corn, sellers of 8,500 soybeans, sellers of 1,000 soymeal, and  sellers of 5,500 soyoil.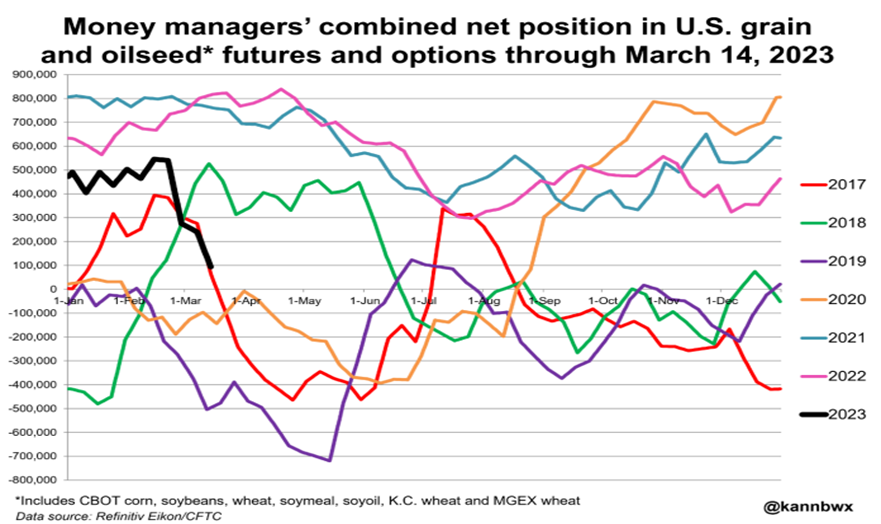 TENDERS
CORN SALES: The U.S. Department of Agriculture confirmed private sales of 136,000 tonnes of U.S. corn to China for delivery in the 2022/23 marketing year that began Sept. 1, 2022. The announcement was the USDA's fifth in the last six business days, bringing the total amount of corn sales to China confirmed since mid-March to 2.247 million tonnes.
WHEAT TENDER PASSED: Jordan's state grain buyer is believed to have made no purchase in an international tender to buy 120,000 tonnes of milling wheat which closed on Tuesday.
PENDING TENDERS
CORN TENDER: Algerian state agency ONAB issued an international tender to purchase up to 70,000 tonnes of animal feed corn to be sourced from Argentina or Brazil
RICE TENDER: South Korea's Agro-Fisheries & Food Trade Corp issued an international tender to purchase an estimated 121,800 tonnes of rice
BARLEY TENDER: Jordan's state grains buyer issued an international tender to purchase up to 120,000 tonnes of animal feed barley.
WHEAT TENDER: The Taiwan Flour Millers' Association issued an international tender to purchase an estimated 56,300 tonnes of grade 1 milling wheat to be sourced from the United States.
TODAY
ETHANOL: US Weekly Production Survey Before EIA Report
Output and stockpile projections for the week ending March 17 are based on five analyst estimates compiled by Bloomberg.
Production seen higher than last week at 1.022m b/d
Stockpile avg est. 25.994m bbl vs 26.394m a week ago
Brazil's Agroconsult sees soy exports at 96 mln T, a record
Brazil is expected to export 96 million tonnes of soybeans this year, a record, according to a forecast on Tuesday by agribusiness consultancy Agroconsult.
Brazil will also export above 50 million tonnes of corn this season, Agroconsult said, citing a favorable outlook for total corn production in the country in spite of an expected fall in plantings in some states.
Brazil 2022/2023 soybean crop forecast raised to 155 mln t – Agroconsult
Brazilian farmers will reap a record soybean crop of 155 million tonnes in the present cycle, even as drought conditions slashed yields in large producing states like Rio Grande do Sul.
After three months surveying soybean areas nationwide, agribusiness consultancy Agroconsult increased its current estimate from 153 million tonnes in a forecast released last month.
China Soybean Imports Seen Rising to 97.5M Tons in 2023/24: USDA
China's soybean imports are forecast to rise to 97.5m metric tons in 2023-24, lifted by "modest" demand growth in the country's animal feed industry, the US Department of Agriculture's Foreign Agriculture Service says in a report.
In the current marketing year started in October, Chinese soybean imports are estimated at 96.5m MT
The USDA attache said Chinese polices supporting soybeans are expected to continue, yielding an extra 400k MT of production in the upcoming marketing year
Soy crush volume is forecast at 95m MT next year versus estimated 94m MT in 2022-23

Total 2023-24 protein meal feed use is seen increasing 1.4% year-on-year to 98.1m MT

Vegetable oil imports are forecast flat in 2023-24

Lower prices, higher demand in the food processing sector is expected to raise palm oil imports to a record 7.1m MT in 2023-24
EU 2022/23 soybean imports reach 8.45 mln T, rapeseed 5.87 mln T
European Union soybean imports in the 2022/23 season that started in July had reached 8.45 million tonnes by March 19, down 14.6% from 9.89 million by the same week last season, data published by the European Commission showed on Tuesday.
EU rapeseed imports so far in 2022/23 had reached 5.87 million tonnes, up 54% compared with 3.81 million tonnes a year earlier.
The bloc's soymeal imports over the same period totalled 11.24 million tonnes, down 4.6% from 11.78 million the prior season, while palm oil imports stood at 2.65 million tonnes, 29% below a year-earlier 3.73 million.
However, the Commission said that it was still experiencing problems compiling grain trade figures from Germany and Italy.
Export data submitted by Germany from November may be inaccurate following the country's switch to a new declaration system, while for Italy import data only went up to Jan. 13, it said in a note.
Russia Winter Crops Endure Winter Well
Russia's winter crops endured the winter well, Interfax reported, citing Roman Vilfand, research director at the government's weather center.
Conditions are somewhat worse than last year, but not terrible, Vilfand told Interfax
94%-95% of crops are in good or satisfactory condition
Separately, Maxar said in a report that warm temperatures this week "should erode the snowpack and improve moisture across western Russia"
Paraguay Group Sees Russia Also Buying Soy Amid Argentina Demand
Russia will probably join Brazil in buying some of Paraguay's soy beans this year even as Argentine crushing mills pay a premium for the oilseed after a drought devastated that country's crop, said Hugo Pastore, executive director of grain and oilseed export group Capeco.
"The good news for Paraguay is that we have product to sell and the market is demanding our goods," Pastore said in a phone interview

NOTE: Argentina bought 90% of the almost 608,000 metric tons of soybeans Paraguay exported in Jan.-Feb., with Brazil buying 10%, according to data compiled by Capeco
"Argentina is the main destination for our soybean exports, and that isn't going to change," Pastore said
Russian purchases could start showing up in trade data as soon as this month

Pastore reaffirmed Capeco's forecast of around 8.5m metric tons for the first soy harvest, close to double the 4.3m tons Paraguay produced in all of 2022

Farmers have almost finished the first soy harvest
Interested in more futures markets?  Explore our Market Dashboards here.
Futures and options trading involve significant risk of loss and may not be suitable for everyone.  Therefore, carefully consider whether such trading is suitable for you in light of your financial condition.  The information and comments contained herein is provided by ADMIS and in no way should be construed to be information provided by ADM.  The author of this report did not have a financial interest in any of the contracts discussed in this report at the time the report was prepared.  The information provided is designed to assist in your analysis and evaluation of the futures and options markets.  However, any decisions you may make to buy, sell or hold a futures or options position on such research are entirely your own and not in any way deemed to be endorsed by or attributed to ADMIS. Copyright ADM Investor Services, Inc.
Latest News & Market Commentary