Explore Special Offers & White Papers from AFS
HEADLINES TODAY
Wheat prices overnight are up 14 1/4 in SRW, up 18 1/2 in HRW, up 11 1/2 in HRS; Corn is up 10 3/4; Soybeans up 18 3/4; Soymeal up $0.50; Soyoil up 0.31.
For the week so far wheat prices are up 43 1/2 in SRW, up 48 3/4 in HRW, up 38 1/4 in HRS; Corn is up 41 1/2; Soybeans up 70 1/2; Soymeal up $2.87; Soyoil up 1.58. For the month to date wheat prices are down 11 in SRW, up 16 in HRW, up 5 in HRS; Corn is up 46; Soybeans up 11 1/4; Soymeal up $13.70; Soyoil up 1.57.
Year-To-Date nearby futures are up 3% in SRW, up 13% in HRW, down -7% in HRS; Corn is up 13%; Soybeans up 20%; Soymeal up 15%; Soyoil up 24%.
Chinese Ag futures (JAN 23) Soybeans down 91 yuan; Soymeal up 58; Soyoil up 150; Palm oil up 116; Corn up 26 — Malaysian palm oil prices overnight were up 70 ringgit (+1.65%) at 4304.
There were changes in registrations (-10 Soymeal). Registration total: 2,653 SRW Wheat contracts; 0 Oats; 0 Corn; 0 Soybeans; 85 Soyoil; 61 Soymeal; 1 HRW Wheat.
Preliminary changes in futures Open Interest as of August 23 were: SRW Wheat down 2,256 contracts, HRW Wheat up 1,530, Corn down 678, Soybeans up 9,745, Soymeal up 810, Soyoil down 3,725.
Northern Plains Forecast: Isolated showers Wednesday. Mostly dry northeast and isolated showers south and west Thursday. Isolated showers Friday-Saturday. Temperatures near normal Wednesday-Saturday. Outlook: Mostly dry west and isolated showers east Sunday. Mostly dry Monday-Thursday. Temperatures near normal Sunday-Monday, near normal east and above normal west Tuesday-Wednesday, above to well above normal northwest and near normal southeast Thursday.
Central/Southern Plains Forecast: Isolated to scattered showers Wednesday. Isolated showers Thursday-Saturday. Temperatures near to below normal through Saturday. Outlook: Scattered showers Sunday. Mostly dry northwest and isolated to scattered showers central and southeast Monday. Mostly dry northwest and isolated to scattered showers southeast Tuesday. Isolated showers Wednesday-Thursday. Temperatures near normal Sunday-Thursday.
Western Midwest Forecast: Isolated showers Wednesday-Saturday. Temperatures near normal through Friday, above normal Saturday.
Eastern Midwest Forecast: Mostly dry Wednesday. Isolated showers Thursday-Saturday. Temperatures near to slightly above normal through Saturday. Outlook: Isolated to scattered showers Sunday-Monday. Dry northwest and isolated to scattered showers southeast Tuesday-Thursday. Temperatures above normal Sunday-Monday, near normal Tuesday-Thursday.
The player sheet for Aug. 23 had funds: net buyers of 6,000 contracts of SRW wheat, buyers of 14,500 corn, buyers of 11,000 soybeans, buyers of 3,500 soymeal, and  buyers of 2,500 soyoil.
TENDERS
SOYBEAN PURCHASE: U.S. exporters sold 110,000 tonnes of soybeans for delivery to China during the 2022/2023 marketing year, the U.S. Department of Agriculture.
WHEAT PURCHASE: Egypt's state grains buyer directly purchased 240,000 tonnes of Russian wheat, the supply ministry said in a statement to Reuters, continuing its recent trend of buying without issuing international tenders.
WHEAT TENDER: Japan's Ministry of Agriculture, Forestry and Fisheries (MAFF) is seeking to buy 118,881 tonnes of food-quality wheat from the United States, Canada and Australia in regular tenders that will close on Thursday, August, 25.
FAILED WHEAT TENDER: Jordan's state grain buyer is believed to have made no purchase in an international tender to buy 120,000 tonnes of milling wheat which closed on Tuesday
PENDING TENDERS
WHEAT TENDER: Iranian state agency Government Trading Corporation issued an international tender to purchase about 60,000 tonnes of milling wheat, European traders said. The deadline for submission of price offers in the tender was Aug. 10.
WHEAT TENDER: The Taiwan Flour Millers' Association issued an international tender to purchase 34,025 tonnes of grade 1 milling wheat to be sourced from the United States
The tender seeks a range of different wheat types in one consignment for shipment from the U.S. Pacific Northwest coast between Oct. 12 and Oct. 26. Wheat types sought include dark northern spring, hard red winter and white wheat.
WHEAT TENDER: Bangladesh's state grains buyer issued an international tender to purchase 50,000 tonnes of milling wheat, traders said. The deadline for submission of price offers is Sept. 1, they said. The wheat can be sourced from anywhere except Israel and is sought for shipment 40 days after contract award to Chattogram and Mongla ports.
RICE TENDER: Bangladesh's state grains buyer issued an international tender to purchase 50,000 tonnes of rice.
 CROP TOUR: Indiana Corn Yields, Soy Pod Counts Fall From 2021
Corn yields in Indiana are estimated to average 177.85 bu/acre based on 217 fields sampled, down from 193.5 bu/acre seen last year, according to Pro Farmer crop tour.
Corn yields in Indiana are estimated to average 177.85 bu/acre based on 217 fields sampled, down from 193.5 bu/acre seen last year, according to Pro Farmer crop tour.
Corn est. is below the 3-year avg of 178.3 bu/acre.
Indiana soybeans are seen averaging 1,166 pods in a 3-by-3-foot square, based on 217 samples

That's below year-ago levels of 1,239.7 and the three-year average of 1,148.3, according to tour data

"So far, I'm disappointed with the corn, but a bit surprised with the soybeans," said Mark Bernard, a crop consultant for Agro Economics and a tour scout
NOTE: The crop tour, which runs through Thursday, does not project soybean yields
CROP TOUR: Nebraska Corn Yields and Soy Pods Are Seen Down 13%
Nebraska corn yield avg. est. is 158.53 bu/acre, according to 321 samples taken Tuesday by participants on Pro Farmer Midwest Crop Tour.
That's down 13% from 2021 Nebraska tour est. of 182.35 bu/acre

Also below three-year avg. of 176.68: tour data

NOTE: About half of fields surveyed were irrigated
SOYBEANS:
Soybean pod count in 3-by-3-foot square avg. 1063.72 pods, according to 311 samples
That's down 13% from 1226.43 pods last year and 1245.06 three-year avg
Tour doesn't project soybean yields
NOTE: A little over half of fields surveyed were irrigated
NOTE: On Aug. 12, USDA forecast Nebraska corn yields at 181 bu/acre and soybean yields at 55 bu/acre
NOTE: The four-day tour ends Thursday; scouts will focus on fields in Iowa and Illinois on Wednesday
ETHANOL: US Weekly Production Survey Before EIA Report
Output and stockpile projections for the week ending Aug. 19 are based on six analyst estimates compiled by Bloomberg.
Production seen lower than last week at 976k b/d
Stockpile avg est. 23.269m bbl vs 23.446m a week ago
Vessels Carrying Corn, Rapeseed Cleared to Leave Ukraine Port
Ships carrying corn for Libya and rapeseed for the Netherlands were authorized to leave port in Ukraine on Aug. 24, Joint Coordination Centre says in emailed statement Tuesday.
The Ganosaya was moving from Odessa hauling 16.5k tons of corn
The Zhe Hai 505 was hauling 29.6k tons of rapeseed from Odessa to Rotterdam

NOTE: Destinations based on current information received by the JCC, but could change "based on commercial activity"

Six additional vessels were inspected and cleared to sail while nine vessels are due to be inspected Wednesday
As of Aug. 23, total amount of grain and foodstuff exported from Ukraine under Black Sea Grain Initiative is 723,886 tons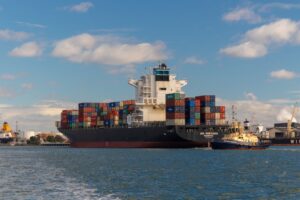 Brazil Soymeal Exports Seen Reaching 1.9 Million Tns In August Versus 1.957 Million Tns Forecast In Previous Week – Anec
23-Aug-2022 12:32:50 PM
BRAZIL SOY EXPORTS SEEN REACHING 5.5 MILLION TNS IN AUGUST VERSUS UP TO 5.738 MILLION TNS FORECAST IN PREVIOUS WEEK – ANEC
BRAZIL CORN EXPORTS SEEN REACHING 7.5 MILLION TNS IN AUGUST VERSUS UP TO 8.089 MILLION TNS FORECAST IN PREVIOUS WEEK – ANEC
BRAZIL SOYMEAL EXPORTS SEEN REACHING 1.9 MILLION TNS IN AUGUST VERSUS 1.957 MILLION TNS FORECAST IN PREVIOUS WEEK – ANEC
SovEcon Sees Russia Wheat Exports in July-August Down 27% Y/y
SovEcon estimates Russian wheat exports in July-August — the first two months of the 2022-23 season — at 5.9m tons, lowest since 2017-18.
"Exports remain sluggish as Russian wheat FOB prices remain too high compared to other suppliers," the researcher said
Strong ruble and high export tax mean farmers are reluctant to sell: SovEcon
Still, head of SovEcon Andrey Sizov said "Russian wheat exports could accelerate near-term on falling domestic market values and/or higher global wheat prices"
MGEX Spring Wheat Stocks Down 38.1% From Year Ago: Aug. 21
Stocks of hard spring wheat stored in Minnesota and Wisconsin warehouses fell to 14.784m bushels in the week ending Aug. 21, according to the Minneapolis Grain Exchange's weekly report.
Stockpiles rose by 306k bu from the previous week
Stockpiles in Duluth/Superior warehouses up 439k bu
The following is for stockpiles in deliverable positions for futures contracts, in thousands of bu:
Unplanted Acres in US Surge on Extreme Rain and Drought
Total area left barren more than triples from last year
Corn hardest hit with more than 3 million acres unplanted
Acres that US farmers were unable to plant have more than tripled from the same period last year as extreme weather wreaks havoc on fields.
Prevented planting acres — or insured crops that can't be planted because of disasters including flooding and drought — were at 6.4 million, according to the USDA Farm Service Agency's August report. That's up from 2.1 million in 2021.
The news comes at the start of the key US crop tour, which will determine if the US can produce enough corn and soybeans to revive supplies diminished by extreme weather and Russia's invasion of Ukraine. While the prevented planting acres trail behind 2020's numbers, it comes at a time when the world is more reliant on the US crop. The war has made food grown outside of Ukraine vital for curbing the worst inflation in decades.
Egypt's GASC Wheat Purchases Reach at Least 2.79m Tons
Egypt's state buyer bought 240,000 tons of Russian wheat in private negotiations on Monday, bringing its total purchases for the 2022-23 season to at least 2.79 million tons.
NOTE: USDA forecasts Egypt to import 11 million tons during the season, and about half is typically booked by the government
The General Authority for Supply Commodities this year began booking some wheat in private talks with traders, marking a shift from its historical process of securing supply in tenders

As a result, the table below may not include all purchases made during period

By this time last year, GASC had booked about 1.61 million tons of wheat in tenders
Russia appears to be the leading supplier so far this season, overtaking France
Indonesia to Extend Palm Oil Export Levy Waiver by Two Months
Indonesia, the world's biggest palm oil producer, is extending the export levy waiver for palm oil by two months to Oct. 31 in a bid to further boost shipments and prices of the local fresh fruit bunches, according to Trade Minister Zulkifli Hasan.
Exporters won't have to pay the levy to Indonesia Oil Palm Plantations Fund Management Agency until Oct 31, Hasan says in a parliamentary hearing on Wednesday
The decision was made after a meeting with the Coordinating Minister of Investment and Maritime Affairs, says Veri Anggrijono, acting director-general of foreign trade, by phone
Finance minister's decree detailing the decision will need to be issued later
Brazil too important a food producer to depend on fertilizer imports, industry says
Global fertilizer companies operating in Brazil can increase local output of important crop nutrients if the government continues to improve the regulatory framework for the sector, industry representatives said on Tuesday.
Speaking at a day-long industry event, major players said Brazil is too important a food producer to depend on fertilizer imports.
Marcelo Altieri, chief executive of the local unit of Norway's Yara International YAR.OL, said during a morning panel discussion that Brazil's reliance on imports represents a threat to global food security, as the country is one of the world's largest food suppliers.
On the sidelines of the event, however, Altieri declined to comment on whether Yara would be interested in bidding for a nitrogen-based fertilizer project up for sale by Brazil's oil major Petroleo Brasileiro
Petrobras, as it is known, also is seeking bidders for potash mining rights in the Amazon.
Brazil imports about 85% of the fertilizer it requires, according trade group Anda. In March, after the start of the war in Ukraine, the government announced a plan to boost local output.
Mosaic Co, the world's fourth-largest fertilizer producer, said the outlook for Brazilian production began to improve after Brazil passed new rules for the gas market.
The government also improved tax legislation that tended to favor imports, a Mosaic executive said.
"To depend on imports not only penalizes the country, but also the world," Arthur Liacre, an executive for Brazil's Mosaic Fertilizantes, said during an afternoon panel discussion.
Liacre recalled that 25 years ago, local production of the NPK fertilizer mixture was sufficient to cater to 55% of Brazil's needs. Today it is a little below 10%, he noted.
Ibram, a mining trade lobby, said at the event that it backs mining on Brazil's indigenous territory, which the Constitution allows, as a way to cut fertilizer import dependence.
Nitrogen Prices Face Higher 4Q Input Costs as Farmers Push Back
Nitrogen prices remain historically elevated on high input costs, despite softening demand and new Middle East capacity. Globally, 15% of the ammonia trade remains offline because of the Russia-Ukraine war. The winter heating season — and increased natural gas demand — could extend nitrogen's price spike.
Cost Curve Guides Prices, Plant Utilization
Global production costs for urea vary wildly, from $100 to almost $800 a metric ton (mt), depending on the region and manufacturing method. The marginal producer — in this case China — helps set average annual prices globally. Spiking natural gas markets have pushed up production costs nearly $100/mt since 2Q21. Access to low-cost natural gas feedstock historically drives significant advantages, given 19 million British thermal units are required to make one ton of urea. In North America, gas costs have averaged below $3.50/MMBtu for the past decade. Prices near $600 a ton highlight the supply shortage and margin potential for low-cost producers.
Nutrien and CF Industries are the largest publicly traded urea producers with low-cost gas access in North America.
India Cumulative Monsoon Rainfall 9% Above Normal as of Aug. 23
India has so far received 699.4 millimeters of rains during the current monsoon season, which runs from June through September, compared with a normal of 643 millimeters, according to data published by the India Meteorological Department on Aug. 23.
The eastern and northeastern region got 19% below normal rains
Rainfall in the central region was at 25% above normal
Cumulative seasonal rainfall data is compiled by the IMD
Futures and options trading involve significant risk of loss and may not be suitable for everyone.  Therefore, carefully consider whether such trading is suitable for you in light of your financial condition.  The information and comments contained herein is provided by ADMIS and in no way should be construed to be information provided by ADM.  The author of this report did not have a financial interest in any of the contracts discussed in this report at the time the report was prepared.  The information provided is designed to assist in your analysis and evaluation of the futures and options markets.  However, any decisions you may make to buy, sell or hold a futures or options position on such research are entirely your own and not in any way deemed to be endorsed by or attributed to ADMIS. Copyright ADM Investor Services, Inc.
Latest News & Market Commentary